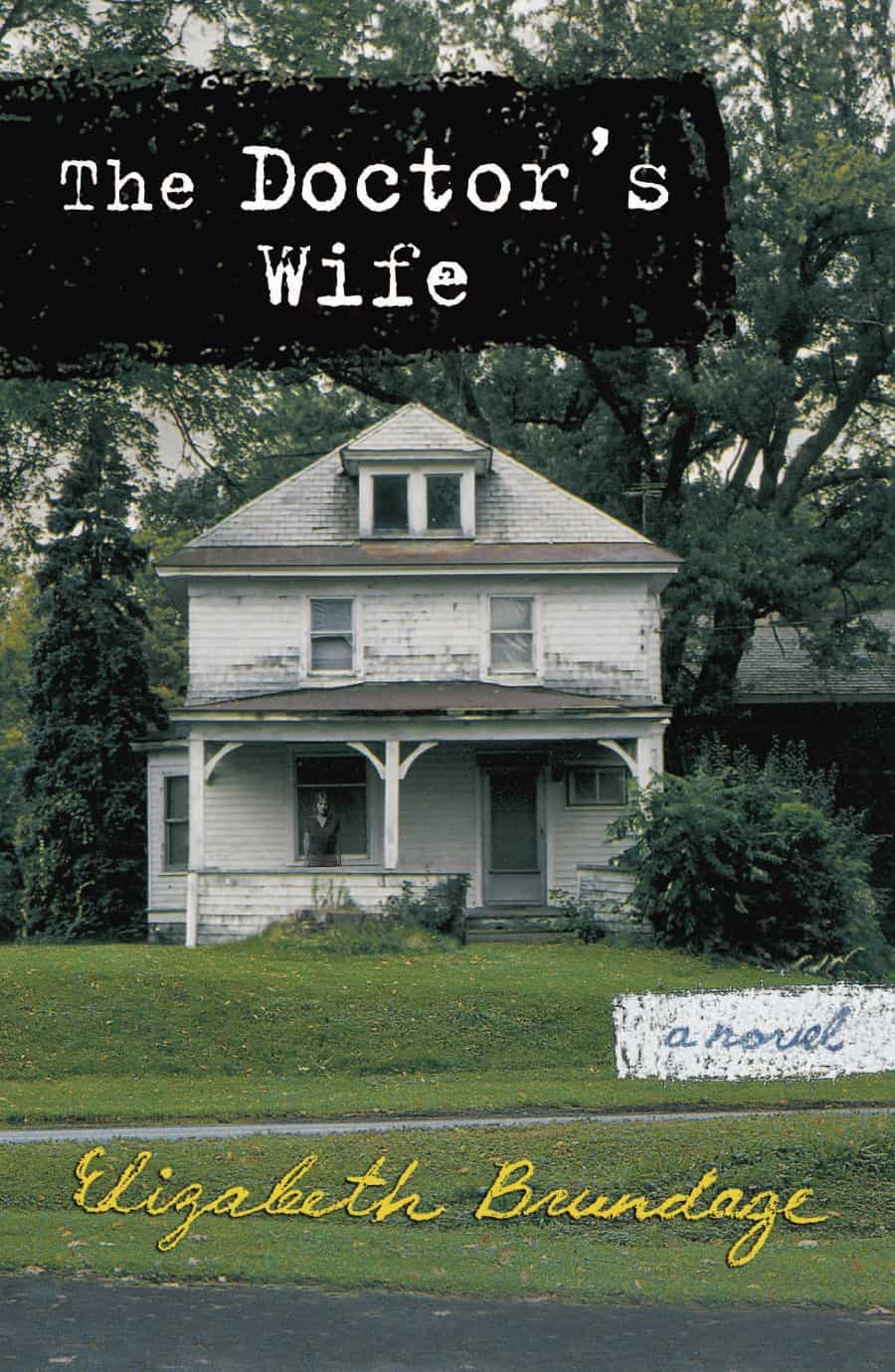 The Doctor's Wife
On Sale Now
"The memory starts here, in my apron pocket, with the gun."
Lydia Haas is devoted to Jesus, her church, and her husband. Only recently, after it's too late, has she understood how much she has sacrificed to all of them.
Michael Knowles is a rising young doctor, an OB/gyn at a prominent hospital. A man committed to his principles, to rescues with uncertain outcomes; to his wife. The life they've made. He never intended to have to make a choice.
Annie Knowles is the "doctor's wife." The first time she walked into their 1812 Federal-style home in High Meadow, an idyllic town in upstate New York, she thought she'd be happy there forever. But that dream wore thin, and another man – a colleague at the local college where Annie teaches – is insinuating himself slowly, surely, passionately into her life.
Simon Haas' paintings of his wife Lydia – dating from when she was a child – made him famous. The story behind those paintings, and behind his marriage, is not one Simon chooses to tell. Until he meets Annie Knowles.
Elizabeth Brundage's stunning debut work of fiction is the story of these four and the cataclysmic intersection of their lives.
"…What keeps a reader turning the pages in this well-crafted work is not to find out what disasters befall the Knowles family, Simon and Lydia – the flash forward storytelling style makes that clear in the first 30 pages – but to discover what prompts each character's actions, and to understand what motivates them to make the turns that eventually lead to the anguished, very human circumstances in which in which they find themselves. Setting The Doctor's Wife in small town America – that much mythologized place from which expressions like "family values" are supposed to spring – allows Brundage to underscore how personal and intimate this nation's "culture war" truly is." —MS. Magazine
"Appearances are deceiving in this psychological thriller… a compelling read." —The Boston Globe
"Thrilling page-turner" —Albany Times-Union
"A Page turner that will linger in reader's minds long after they finish the book." —Connecticut Post
"An examination of w hat happens when we are drawn to the very thing that promises to destroy us." —Publisher's Weekly
"Complex, cleverly constructed narrative provides a slow unfolding of the intricate relationship among the characters…This page-turner will appeal to a broad readership." —Booklist
"The Doctor's Wife kept me up two nights – the first was the one in which I read it, and the second was the night when I kept trying to argue with her. 'He wouldn't do that,' I wanted to say-but yes, he would. He would almost surely do all that. And so would she." —Dorothy Allison, author of Bastard Out of Carolina and Cavedweller
"The Doctor's Wife is certainly a tense and compelling psychological thriller, but it's more than just a page turner. In her dark depiction of small-town intolerance, Brundage invites us to question our moral assumptions, social responsibilities, in short, our engagement with the world." —Ruth Ozeki, author of My Year of Meats and All Over Creation
"Elizabeth Brundage has exquisitely captured the tension that resides at the crossroads of self and society. The Doctor's Wife encapsulates not only our uncertain, conflicted times but the maddening, endearing, fascinating contradictions of the American moral construct. This novel is as politically pertinent as it is a page-turner." —Megan Daum, author of The Quality of Life Report
"Elizabeth Brundage has written a deliciously dark, finely observed, and ultimately thrilling morality tale. The Doctor's Wife is a full meal of sex, danger, and small-town paranoia which I greedily devoured." —Laurie Fox, author of The Lost Girls
"Elizabeth Brundage's prose reveals an honesty, clarity and grace uncommon for any novel, let alone a debut, and her insights consistently surprise and astonish. Even more impressively, she tackles a topic currently dividing the American spirit with feverish rancor and brings not just conviction but compassion to her portrayal. The Doctor's Wife is a novel to savor, praise and share." —David Corbett, author of The Devil's Redhead and Done For A Dime
"From the very first paragraph of Elizabeth Brundage's debut…it is evident things will not end neatly. No character inhabiting this story will escape unscathed from the choices they've made…a well-crafted work." —Ms. Magazine
"A fine debut, full of psychological suspense, plot twists and turns, malice disguised as religion, the taint of incest, and cheating spouses." —Library Journal
SOMETIME AFTER MIDNIGHT Michael Knowles wakes to the sound of his beeper and picks up the phone. "You want Finney," he tells the page operator. "I'm not on call tonight."
"You are now, Dr. Knowles," the operator says officiously, and puts him through to the ER. A nurse comes on and brings him up to speed in a voice shrill with hysteria. The patient, she explains, a thirteen-year-old girl from Arbor Hill, is in labor, four months premature. "Boyfriend dropped her off about an hour ago and split. No prenatal care, no insurance. Now she's bleeding all over the place and I can't get anyone to give me a consult. Your partner's puking his guts out in the men's room. I'm told it's food poisoning."
"Give me twenty minutes," Michael mutters, and like a man called to the service of war he grabs his coat. He had fallen asleep on the couch in the study. He climbs the stairs quietly, feeling strangely like a guest in his own home, wary of the light that burns on his wife's bedside table. He enters the room uneasily, dreading a strained encounter, but Annie is asleep and all the lines of discord have vanished from her face. For a moment he marvels at her beauty, her glorious brown hair, the fleshy protrusion of her upper lip, her T-shirt twisted appealingly across her breasts. His heart begins to pound. She has squandered her beauty, he thinks. He does not know what will happen between them now. But no matter how much he rationalizes what she did, and he does rationalize it, no matter how much he tries to talk himself into hating her, he finds himself loving her more. His love for her is ripe in his mouth. The fruit has rotted perhaps, but he refuses to spit it out. With routine compassion he picks up the book at her side and sets it on the nightstand. For a moment he stands there, half-expecting her to wake, almost hoping that she will. Not to fight anymore, but to find each other inside a single, wordless moment. To find each other and remember what brought them both there in the first place, and why neither has left. But it's too late for that, and she doesn't wake, and they're paging him again. He writes her a note, GOT PAGED, and leans it against the base of the lamp, where she will find it in the morning. Then he switches off the light and steps into the hall, listening to the yearning silence of the big house. It makes him think of his kids and he looks in on them now before he goes. First comes Henry, his ten-year-old son, sprawled across the mattress amid blankets and toys and forgotten stuffed animals. The boy's hamster, Harpo, spins obsessively in its cage and for a moment Michael just stands there, contemplating the creature's useless exertion. In the room next door, Rosie, who is six, sleeps with perfect stillness, maintaining the meticulous hierarchical positioning of her dolls at the end of her bed. Michael can't imagine loving anything more than his children and feels a pang of guilt because he rarely sees them. Quality time, that's what he's resorted to. All part of the failed equation, he thinks, heading down the crooked stairs of the old house and out into the cold night, where it has begun to snow again. The flakes are thick and white like the feathers of birds. He takes a moment to zipper his jacket, to pull on his hood. The night is quiet, the sound of snowfall a comfort somehow, and he pushes himself on, cursing himself for wasting time.
The Saab starts with a lusty roar that makes him grateful that he owns a good car, even though he does not consider himself a man of attachments or possessions. The car smells of leather and promise and his own pathetic gratitude and it comes to him that he's been a fool in his marriage, that what came between him and Annie is his own goddamn fault. It's about him, not her, he realizes. It's about everything he's not.
Angry now, he pulls out of the driveway and speeds down the road, blowing past the squad car parked on the corner. Ever since he delivered the sheriff's babies none of the cops pull him over for speeding. They know people are waiting for him, people in pain, and they respect that. One of the benefits of living in a small town like High Meadow, he thinks, gunning the engine, winding down the hill past Slattery's cow farm, the fields dark and dense and silent, veiled in a dusting of fresh snow. Too early in the season for snow, he thinks, just a couple of weeks shy of Thanksgiving, but the weather is always unpredictable in upstate New York, and after all these years he's no stranger to it. Ordinarily in weather like this he'd take Route 17 down to Bunker Hill, but he's worried about the girl in the ER and decides to take Valley Road instead to save time. Under ideal circumstances the shortcut is dangerous, complicated with tight, snakelike turns, but it takes fifteen minutes off the trip. Tonight Valley Road shimmers with ice. The naked trees seem to tremble in his headlights. The sleet comes out of the dark like millions of pins and he is forced to decelerate, taking the curves slowly, methodically. The suffering girl will have to wait, he tells himself; nothing he can do about it now. At the end of Valley Road he turns onto Route 20, streaming into a line of traffic behind a behemoth snowplow, then onto the interstate, the city of Albany like a white blur before him.
Downtown, the streets are deserted except for a few homeless stragglers. The green neon cross on St. Vincent's Hospital blinks and buzzes like some divine Morse code. Only now, as he pulls through the mammoth jaws of the doctors' parking garage and climbs the labyrinth of concrete to his spot on level four, does it occur to him that something may be amiss. That perhaps the phone call had been a hoax: the bleeding girl, Finney being sick. Now that he thinks about it, he hadn't recognized the nurse's voice and he knows all the nurses at St. Vincent's. The garage is deserted. The hanging fluorescent lights move in the wind, squealing slightly on their hinges. He knows he's paranoid-Comes with the territory, they'd told him when he'd first started at the clinic, and he'd been more than willing to accept that, but now, tonight, he senses danger and he hesitates getting out of the car at all. He looks up at the glass doors a hundred feet away, where a nurse passes by in her pink scrubs, and the sense of routine comforts him. His beeper sounds again-I'm coming, hold your fucking horses-and he grabs his bag and opens the door and they're on him, three or four or even five men, dragging him across the concrete into the dark. Cursing him, shoving him, laughing a little with their raised fists, taking turns splitting open his face, pushing him from one man's arms into another's. A greasy terror sloshes through his head. And then he's down on his knees, someone throttling him, wrapping a cord around his neck, and as the air leaves his body like a pierced balloon he wonders if they are finally going to kill him. The fat one speaks in a cold, even voice, sweat splashing off his lips: "We've had enough, Dr. Knowles, we've had enough of your bullshit," and then a shock of pain in his balls, excruciating and dense, and he doubles over and pukes-and he is glad for a moment, puking, because he thinks they will leave him alone, but they don't, they kick him again, and again, and he is down on all fours like a dog amid chewing-gum wrappers and cigarette butts and shattered glass and his own puke and he suddenly begins to cry. Where is the guard, he wonders now-why hasn't anyone seen them, some nurse, some technician, some doctor? Why isn't someone calling the police?
"Let's medicate the poor bastard." Someone yanks back his head and pries open his mouth, dropping in pills. He doesn't swallow, but then he gags and chokes and the bitter powder burns his throat. Water comes next, and more pills, and he can't breathe. Surrender, he tells himself, you have no choice! His body lax as butter, everything blurred and slow and jangling with silence. I can't fucking hear you! he thinks dully. Their big hands, quivering faces, mouths open in laughter. I can't hear anything.
They put him in the trunk. The road vibrates under his head like a jackhammer. For the moment he is relieved to be left alone; he is relieved to be alive. And then it comes to him, suddenly, vividly, that he is going to die.
For months he has waited for this moment, feared it, and now that it is here, finally, now that it is happening to him, yes, to him, it is all the terror he imagined and worse.
Snowflakes on his face. The sky is kissing you, Daddy, he hears his daughter whispering. The men are talking but he cannot make out a word of it. He feels the prick of a needle, the warm drug rushing through him, bringing a taste into his mouth, cotton candy, and a feeling throughout his limbs that is not entirely unpleasant. The men smell of whiskey and triumph as they grip his body and pull him out of the dark place. Staggering with his weight, they bring him in their arms to a car and they put him into it, behind the wheel. Even in his dementia he knows it's his own car, he recognizes the smell, Rosie's paddock boots in the back, Henry's chocolate bars for Cub Scouts, and they strap him in and turn the key and the engine screams. He wants to tell them that he can't see, he's in no shape to drive, but his mouth won't work, his tongue is too big, and now the car is moving, it floats for a moment in midair, then tumbles through the dark like a clumsy animal. Suddenly he understands what they have done and he doesn't care, really, it doesn't matter anymore, and he forgets it, he forgives them all their stupidity, and he can only remember her face, her beautiful mouth. Annie! He screams inside his head. He is screaming and screaming. Annie!
WARNING! Questions here contain plot spoilers. Don't read the questions until you've read the book.
1) The thriller plot of The Doctor's Wife deals with violence against doctors who perform abortions. How did your own views about abortion affect your reading of the book?
2) Although the thriller plot focuses on the doctor, Michael Knowles, the title suggests the most important character is his wife Annie. Why?
3) Annie's affair with Simon is sure to press as many hot buttons as her husband's work in the women's clinic. How did you feel about the affair? Was it "justified"?
4) Lydia's religious beliefs are exploited by a "reverend" with a political agenda. Who's responsible for her actions — Lydia, Reverend Tim, or both?
5) Mothers beam when their daughters marry doctors, but Annie is disappointed in Michael precisely because he is a doctor. Medicine, she believes, has turned him into a "weary, densitized workaholic." That could be a description of many professional men. Would it be better if those men married women in their professions?
6) "They had come to a place in their marriage when they were blind to one another, and it was mutual." How does this change for Annie and Michael over the course of the book? What do you think happens to Michael and Annie?
7) Simon teaches Annie's class one day, and delivers a lecture — directed at his wife — about black-and-white. "Gray is where you want to go, but it's difficult," he says. In reading this book, do you feel the author prodding you to see life in its complexity, as shades of gray? Or is that a rationalization people adopt when, say, they're having affairs?
8) How do Simon Haas' paintings of Lydia reveal how he views women? Does this view change when he gets to know Annie?
9) How do you visualize Simon's work? What painter's work do you see?
10) Which character, if any, were you sympathetic towards? Why?
11) Talk about the theme of guilt that runs through the book. Annie is guilty about her affair with Simon. Michael is guilty about his relationship with Celina. Simon is guilty about his life with Lydia. Lydia is guilty about murdering her father. What does this guilt do to the characters?
12) When you first started reading this book did you expect that the story would take the twists and turns that it did? What surprised you most?